GreenLight: Onboarding System for New Enterprise Product
GreenLight.ai
An enterprise product for managing HR, staffing, and paying independent workers.
Goal

Develop a white label onboarding system for a new product that will work seamlessly with large companies and for directly connecting with workers.
My Role
I worked on a design team contributing to end to end aspects of the full onboarding design, which includes research, sketching, lofi and midfi wire-framing and hifi prototyping.
Preparations for B2B and B2C Product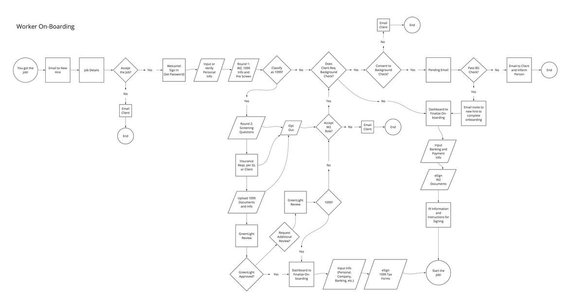 The first sprint was used to perform competitive analysis and research to deepen our knowledge of the industry and to align with the CEO's vision for the new product.
The team worked with the CEO to refine multiple user flows to onboard:
1) GreenLight's clients
2) The client's workers who would also use the product
3) GreenLight's direct workers
These user flows drove the design of the product to execute the necessary legal steps for hiring.
Shifting Focus to White Label
I developed sketches and lo-fi sketch and digital iterations for a few sections of the onboarding and worked with the engineer to verify feasibility of the proposed designs. The team finalized on a a clean hi-fidelity version in order to prioritize creating a white labeled product that could be used in prototypes for pitching the new product.
Because of this, we started to lay the basic foundations of a design system. Instead of focusing on branding and visuals, we wanted to build something that could easily blend with other company branding.
The following is an example of how basic branding can be incorporated into a white-labeled product:
Branding: Voice and Color
The next process will be to run a branding workshop with GreenLight to build the foundations for GreenLight functioning as an independent product for hr/staffing/payroll management.
***Note final designs contain proprietary information, therefore, I won't be displaying the full prototypes. Please contact me to learn more details about the project.***
It is important to get the details in the process clear early on! Although, research and user flows took longer, I believe it deterred any issues surfacing later on. Working on an enterprise product can be challenging, but interesting with the depth of understanding multiple user journeys.